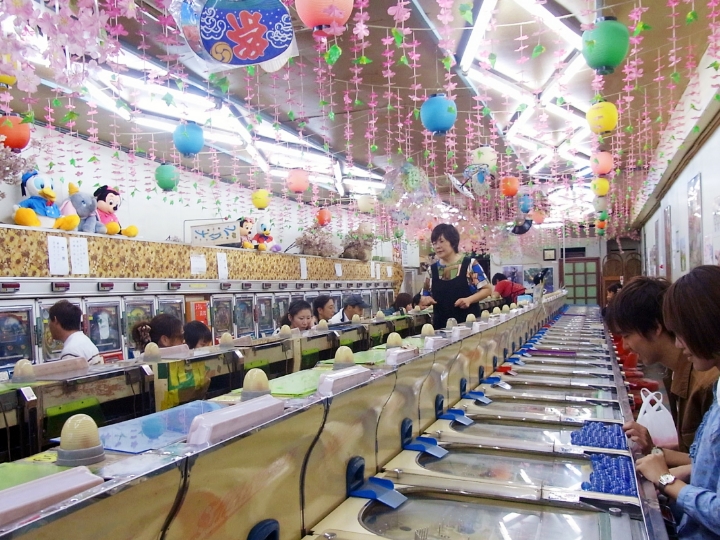 Tokyo Short Guide

STAY
If you can spare the cash, stay at the venerable Hotel Okura, designed by Yoshiro Taniguchi, as it undergoes its transformation from the über-hip boutique Hotel Claska, which features rooms designed by individual artists. For those more budget minded, the more traditional Tokyo Ryokan or conveniently located Granbell Shibuya are also good options.
SEE
Anything and everything. There is no better place on the planet to just walk around and people watch. Some good places to start are: Mitsokushi, Daimaru or Maru Imai department stores (don't forget to sample a wide variety of snacks and foods in the basement); Shibuya Crossing, where an average of 500,000 people rush by each day; Harajuku, for your Cosuplay and Anime fix, and the starchitecture-lined Omotesando streets.
DO
Wake up at 3 am to see the world's most expensive tuna auctions and visit Tsukiji fish market in full swing. Spend an afternoon in Asakusa reading fortunes at Senso shrine and drinking tea with monks. Or escape from it all in one of Tokyo's many world-class art museums - The Mori, Watari-um, Ota and Nezu museums are well worth the trip.
EAT & DRINK
For a one-of-a-kind sushi experience, you can't beat the 6 am omakase at at Sushi Dai in Tsukiji Market - get there early (yes, earlier than 6 am) and expect to wait. Fast food ramen like Ippudo abounds, but but for a more leisurely lunch, try one of the city's traditional tempura houses in Asakusa - Daikokuya is one of the best. Don't miss happy hour at the Park Hyatt's New York Bar, of Lost in Translation fame, where you can sip a French 75 while watching a panoramic view of the city light up each night. To dine like a true Tokyoite, head for a casual izakaya late night - from Fuku to Maru, there's one of these pubs to match any location and budget,
SHOP
For Brooklyn in Tokyo, head to Daikanyama and Nakameguro to shop all manner of hipster boutiques, lifestyle stores, and those beautiful things you never knew you needed. Cow Books is a favorite. Head to Omotesando for bigger names and the most beautiful window displays this side of the dateline. Finally, keep an eye out for Japan-only brands for day-to-day wear: Blue Blue Japan, Beams, Porter, Ships, MUJI, and United Arrows - these well-made, understated goods might just replace your American standbys.
EXTRAS
If you have time, take the train to Kamakura, a mellow surf town where you can spend a few hours roaming through rural temples and spectacular modern homes, finishing at the famous and notably large Amida Buddha. For a change of pace closer to Tokyo, head to Yokohama's Chinatown, for all the kitsch and color you'd expect in one of the world's largest Chinatowns.
KNOW BEFORE YOU GO
Tokyo, like the rest of Japan, can be a very difficult place to withdraw money or exchange travelers checks (assuming people still use those). Bring cash and lots of it. A handy off-line subway map like Tokyo Subway Guide will help you get the lay of the land - don't forget that service ends at midnight throughout most of the city. Finally, addresses are largely unintelligible to foreigners. If you want to guarantee your arrival, ask your hotel to provide directions. But don't be afraid to wander - in one of the cleanest, safest cities in the world, there are far worse places to be lost.
Trip Diary
TOKYO | October, 2014
by Kelly Britton
Tokyo may well be the world's greatest metropolis. Its 38 million residents live, work and play in an area roughly the size of LA county. An estimated 15 million people ride its subways each day, nearly three times that of the New York City subway system. It is also safe - the safest city in the developed world - and incredibly, unapologetically clean, with its white-gloved cabbies and spotless toilets. Drivers don't honk their horns, people don't shout. Even the homeless line up in orderly park tents, their shoes neatly arranged outside.
But Tokyo is much more than a well-oiled machine. Around every corner is a bustling food market, a star-chitect designed glass tower, a blinding array of neon, an ancient, winding alley. Tokyoites are gluttons for more than food. History, sports, art, music, nature, fashion - residents of this great metropolis want for nothing. Take almost anything you can do, see, buy, or eat elsewhere, and Tokyo will do it better. Having lived in northern Japan for nearly three years, this city to end all cities also holds a very special place in my heart. And touching down for the sixth time, I am no less awed by its unparalleled style, scale, and energy than I was at first sight.
One could explore Tokyo for decades, but alas, I am here on a whirlwind tour - 36 hours of meetings and greetings with a well-known Japanese company, and then a little over a day to pack in my favorite haunts before the (somewhat harrowing) transoceanic flight back to New York.
I start my free morning early - like, fishmonger early. Though I have spent more than one sunrise in the bowels of the Tsukiji fish market - lining up at 4am to witness the now infamous tuna auction - on this day, I'm stepping out of a taxi at the more reasonable time of 6:45. My purpose? Securing my place in the queue at Sushi Dai, one of the most popular and - not coincidentally, given its location - freshest sushi spots in the city. I order the "omakase" (chef's selection), and from the first bite of glistening rainbow-hued mackerel, Sushi Dai does not disappoint.
With my stomach full, I head out to another of my favorite Tokyo haunts, the Mori Art Museum. Located on the 53rd floor of the Mori Tower in Roppongi, the museum is a virtual paean to infrastructural achievement. Imagine the likes of large-scale installation artists like Richard Serra, Louise Bourgeois, and James Turrell loading their work into a freight elevator the size of a semi-truck and hoisting it to the top of a skyscraper. This is Mori. The museum holds a wide variety of contemporary artists and most of the work is site-specific, making the outrageous logistical challenges posed by its location all the more interesting. As part of your entrance ticket, you are free to head up to the roof, where you'll find a panoramic view of Tokyo.
From here, it's a quick stop on the subway to Omotesando. If Ginza is Tokyo's 5th Avenue, Omotesando is its Chelsea. Full of fanciful architecture (works by Tadao Ando, SANAA, Herzog & de Meuron, Tokyo Ito, and Mario Botta, just to name a few), chic galleries, and stores I mostly can't afford, I often stop here for a little Western infusion in the form of a perfect pour from Omotesando Koffee, a tiny kiosk in a traditional Japanese home, just steps from the subway. There is plenty to do nearby, from the Ota and Nezu museums, both dedicated to traditional Asian art forms like woodblock printing, to Pass the Baton, my favorite Japanese consignment shop. Opened in 2010, Pass the Baton isn't your typical high-end vintage store - here, each piece has to tell a story and the owners set the prices. Even on days when I don't find a Comme des Garcons wallet, poking through the curated shelves of Pass the Baton is a delightful way to spend an hour.
As the day wears on, I start to feel slightly imprisoned by the rush and glitz of the city. I speed through Harajuku (one of Tokyo's most infamous areas and the best place to see a young woman casually dressed as Bo Peep), and deep into the quiet, shaded paths of Yoyogi Park. At the heart of the park I find Meiji shrine and gardens, and arriving there, to the absolute silence of a traditional Japanese wedding, is like a breath of mountain air. But no time to waste, dinner is calling.
Heading back to central Tokyo, I disembark at Shibuya and pause on the catwalk between the stations: below me, Shibuya Crossing, where as many as 2,500 people effortlessly pass through the crosswalk each time the light clicks green. Though I've paused here to people watch on more than one occasion, I'm nonetheless astounded by the sheer volume of pedestrians and and the ease in which they move through the crowd. Exiting the station to the east, it's just a couple of blocks to my destination: Morimoto. One of the oldest and most venerable yakitori restaurants in the city, you would never pick Morimoto out of a crowd. But its unassuming blue awning and fluorescent-lit counters belie its greatness. Here I order whole grilled eel on skewers and raw chicken sashimi, foods that I will likely not eat anywhere else on the planet. I dine between two late-aged salary men, who make a bit of small talk and offer a cheers. We exchange business cards, and with that, my day in Tokyo is complete.
In the morning, I pack up my things and board the first in a series of trains to the airport. With a couple of hours to kill, I make one last stop on my return-to-Tokyo pilgrimage. Asakusa, in the city's northwest corner, is old Tokyo. Or what's left of it. Here you can find some of the few pre-war wooden buildings left in this glass and steel city and get lost in a pastiche of plastic sushi and samurai swords. I don't have much time so I duck through the great red torii gate of Senso-ji, buy an omikuji fortune and a cup of tea and sit for a minute near the entrance to the shrine. Today, as everyday, this little corner of Tokyo is packed with people, going about their lives in one of the world's greatest cities, paying no attention to the greatness all around them.